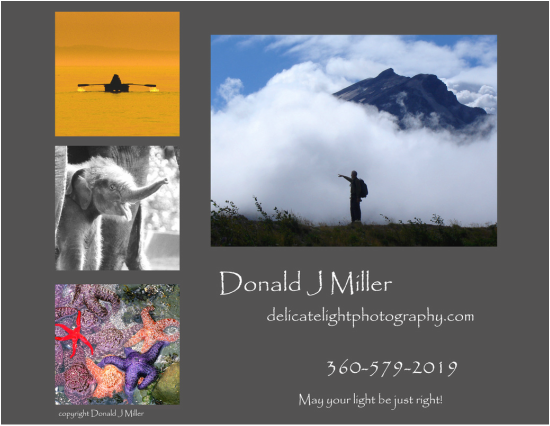 Welcome to the Delicate Light Photography website.
With my images I seek to convey the awe and wonder of the life and universe we experience. I have been seriously photographing since 1965. In that year, while on a science trip, naturalist and nature photographer Jim Anderson noticed I was trying to repair my point and shoot camera with chewing gum. He generously loaned me one of his SLR cameras for the remainder of the trip and provided some tips on creative photography.
The world seemed different viewed through the camera's lens. Escaping daily routines I could see usual things in new and exciting ways. At times photography
has been a life jacket, at times a frustration, but regardless, since 1965 it has just been a part of me.
Daily we are deluged with images in our many modes of communication. Why make more? For myself, I turn to the words of one of my favorite photographers -- W.Eugene Smith:
"Then why photograph?
Because sometimes - just sometimes - a photograph can lure our senses to greater awareness. Much depends on the viewer; but to some, photographs
can demand enough of emotion to be a catalyst to thinking."
Please browse through the Photo Galleries (see tabs above).
May your light be just right! Donald J Miller ~ Delicate Light Photography
Price List
Size
A
frame size 8x10
approximate print size 5x7
$18 or 2 for $29
Size B
frame size 11x14
approximate print size 7x10
$35 or 2 for $59
Size C
frame size 16x20
approximate print size 10x14
$75
Pric
e for multiple purchase of sizes A and B are $14.50 and $29.50 respectively
Larger print sizes available on
request
Cards available of any image for $3.50
Photographs have archival white mat and are mounted on neutral ph mount board
Shipping $5 for orders under $75 and $8
for orders of $75.00 or more.
To place an order and arrange payment by credit card or check

email delicatelight@whidbey.com
or phone 360-579-2019
---
---